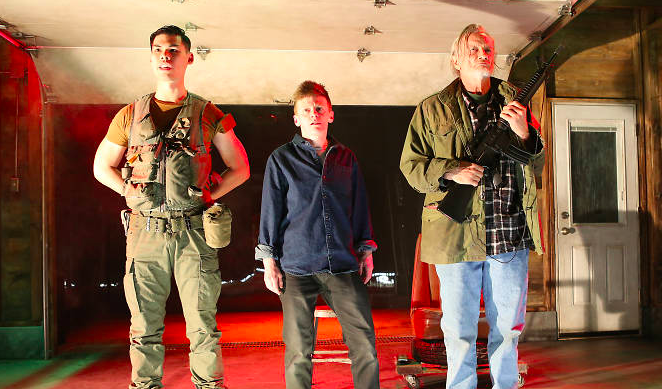 Directed by Dustin Wills A Co-Production with Page 73
Set Design - Kate Noll
Costume Design - Montana Blanco
Lighting Design - Barbara Samuels
Sound Design - Palmer Hefferan
Projection Design - Joey Moro
Prop Design - Raphael Mishler
Production Manager - Rebecca Key
Production Stage Manager - Nicole Marconi
Assistant Stage Manager - Corinn Moreno
In Orange Julius, Nut grew up the youngest child of Julius, a Vietnam vet, in the 1980s and 90s working-class America. As Julius suffers the toxic effects of Agent Orange, Nut worries their time together may run out before they can embrace something essential about their relationship. Paging through forgotten photo albums and acting out old war movies about brothers-in-arms, Nut leaps through time and memory, tracing the complex intimacy between father and child when the child is transgender, fighting for a mutual recognition before it's too late.
"...a rich and thoughtful study of family, love, and the bonds brought about by war. Orange Julius is not just a promising play by a young writer. It's an assured, mature, work that challenges and moves well beyond expectations." ----Bill Eadie, The San Diego Story
Orange Julius received its world premiere on September 26, 2015 by Moxie Theatre Company, Delicia Sonnenberg, Executive Artistic Director. It was developed during a residency at the Eugene O'Neill Theater Center's National Playwrights Conference in 2012. Preston Whiteway, Executive Director; Wendy C. Goldberg, Artistic Director. This will be Kreimendahl's first NY production.
 
PRESS
Review: An 'Orange Julius' Bond Is Complicated. - Laura Collins-Hughs, New York Times
Dustin Wills directs with an uncommonly intimate grip; the cast is superb, and the execution (particularly Palmer Hefferan's sound design) is confident and effortless. If these are Kreimendahl's own memories, it's a blessing that such fragile things are being treated so tenderly. - Helen Shaw, Time Out New York
ABOUT
BASIL KREIMENDAHL's play Sidewinders won the Rella Lossy Playwright's Award and had its world premiere at The Cutting Ball Theater in San Francisco. Orange Julius was developed at the 2012 O'Neill National Playwrights Conference and was included in La Jolla Playhouse's DNA new work series. Basil was commissioned by Actors Theatre of Louisville for Remix 38 at the 2014 Humana Festival of New Plays. Basil's plays have also been developed by New York Theatre Workshop, About Face Theatre, Inkwell, Rattlestick, WordBRIDGE, The LARK, and The Oregon Shakespeare Festival. Basil has been a Jerome Fellow and is a current McKnight fellow. A recipient of an Arts Meets Activism grant from the Kentucky Foundation for Women for theatre work with the trans community in Louisville, Basil has taught playwriting to elementary, high school, and college students, founded and ran a playwrights group for queer youth in Louisville called Out On The Edge, and was the Provost's Visiting Writer at the University of Iowa 2013/2014. Basil's work has been published by Dramatic Publishing and was included in Xlibria's Becoming: Young Ideas on Gender and Identity. The Cost of a Goat won a National Science Award at KCACTF in 2012. MFA University of Iowa, 2013.
DUSTIN WILLS is a NYC-based theatre director originally from Texas. Recent projects include O, Earth with The Foundry Theatre and AWFUL EVENT! with support from New York Theatre Workshop and Ars Nova. Dustin has developed and directed work with Williamstown Theatre Festival, Yale Rep, the Ground Floor residency at Berkeley Rep, Berkshire Theatre Group, Paper Chairs, and Salvage Vanguard Theatre, and has devised new work for The English Theatre of Rome and Teatro L'Arciliuto in Rome, Italy. He is a two-time recipient of the Princess Grace Award and is a Drama League and Boris Sagal directing fellow. Upcoming projects include Blueberry Toast by Mary Laws at Echo Theatre in Los Angeles and Frontieres Sans Frontieres by Phillip Howze at the Bushwick Starr. MFA: Yale School of Drama. dustinwills.com